Destination Wedding Film // Breckenridge Editorial
A few weeks ago we had the pleasure of traveling to Breckenridge, Colorado for an editorial session at Sapphire Point! As lovers of travel and the outdoors, this was pretty much a dream come true for us, and we knew that the moments we were going to capture would be once in a lifetime.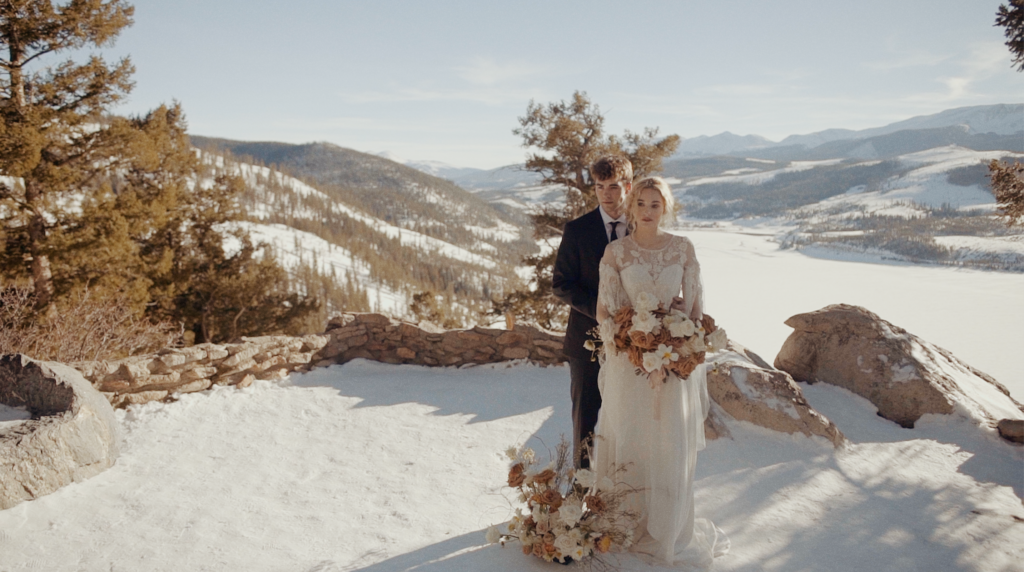 We've traveled to Colorado a few times through the years, and love any time we get to go back! The fresh mountain air, the breathtaking views and celebrating with our couples is the perfect recipe for creativity and inspiration, and low-key HIGH key #weddingfilmgoals .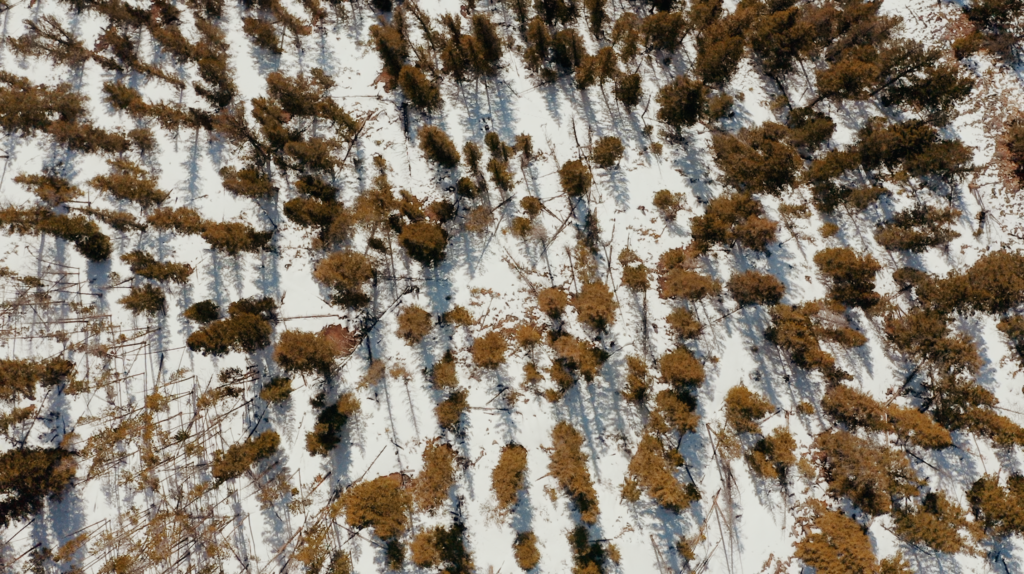 This shoot was located at Sapphire Point Overlook, which is located in Breckenridge and looks over Lake Dillon. The day before we got there, a shoot was held at the Dillon Ice Castles which features some breathtaking ice formations that straight up look like they were pulled from the set of Frozen.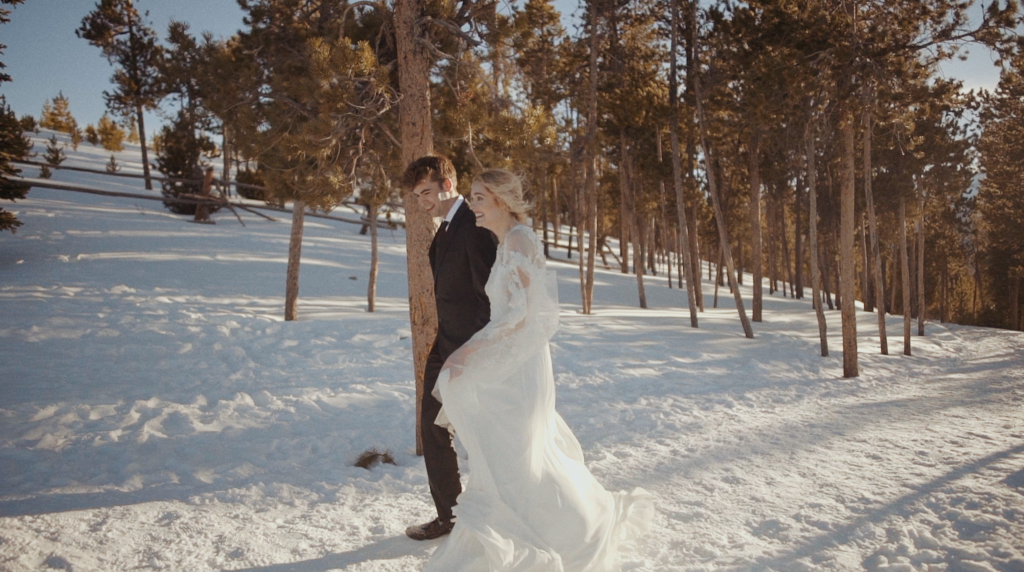 We joined the team on day 2 of the shoot at Sapphire Point and were blown away with how beautifully everything was executed. To be honest, the beauty of the mountains can stand completely on its own, and adding more gorgeous elements only added to how truly breathtaking it all was when it came together.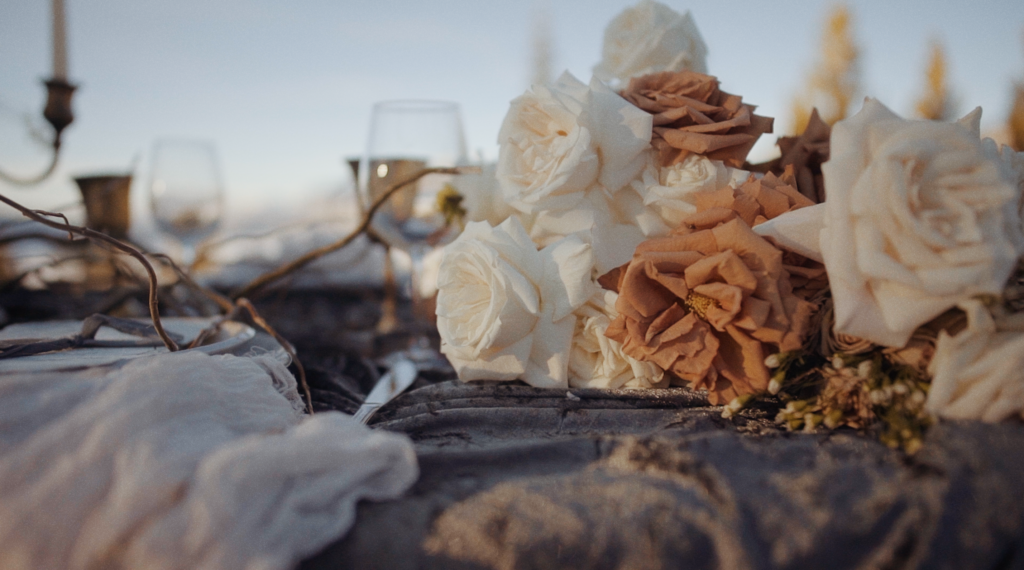 We also had a TON of fun getting to fly the drone over the lake, and were blown away with the shots we were able to get. During the winter, the lake freezes over enough for people to walk and play on, and being able to capture that specific element of the scenery really added to the overall HUGE feel that this entire shoot brought. We even saw some people kite boarding on the frozen lake, and while we're not exactly extreme athletes, it looked enticing?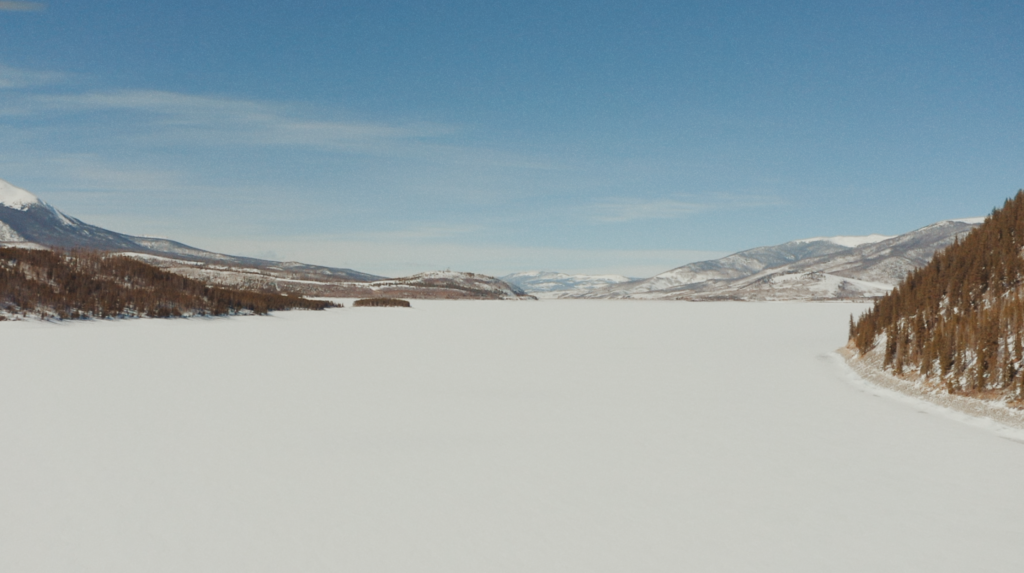 Our first setup was at the scenic overlook, which is a natural landmark that allows travelers and tourists to admire the gorgeous landscape. It's *also* a popular destination for couples to get hitched, and we actually saw another couple setting up their intimate ceremony as we were leaving for the day! If you're looking for some breathtaking views and the perfect spot for an intimate outdoor ceremony, Sapphire Point is the #1 place for that in our books!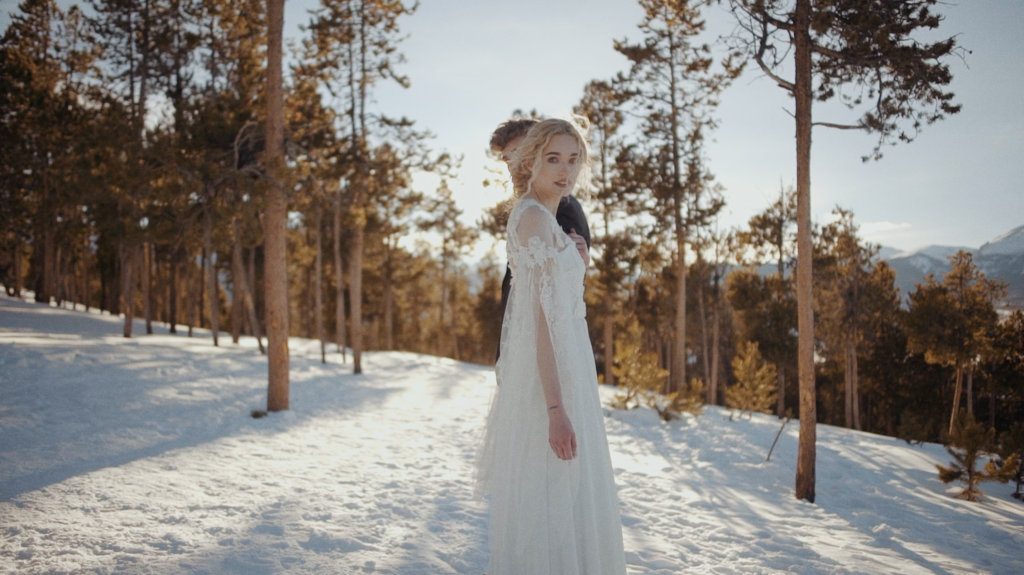 We later traveled further along the trail to the backside of the mountain that showed us a completely different perspective of what this location had to offer. The snow-covered hillside, and golden afternoon light reflected off of the evergreen trees and gave us this gorgeous golden + green color palette that we felt so inspired by. We loved being able to work with our couple and capture their essence in a way that complimented the beauty of our surroundings.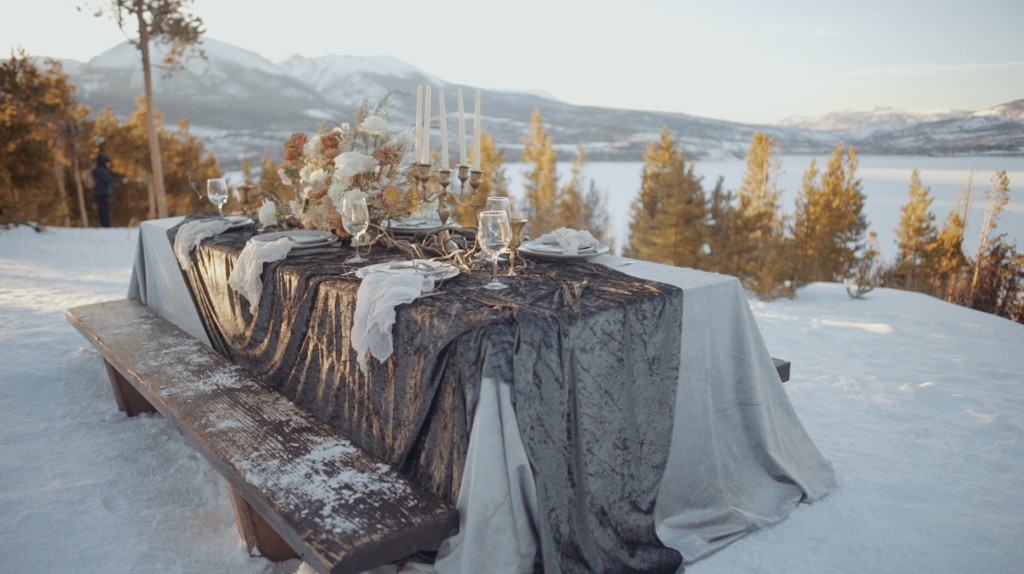 There's something so innately beautiful about people and nature, and celebrating love in a place with natural beauty like this, it's hard to feel like it wasn't meant to always be like this. We love the variety of work we get to capture and feature here at Cre8ive Wedding Films, and want everyone to feel like they can see themselves in our films. But when we get the honor of capturing a couple surrounded by such a gorgeous outdoor landscape, it's hard not to want to capture something like *that* every day of your life.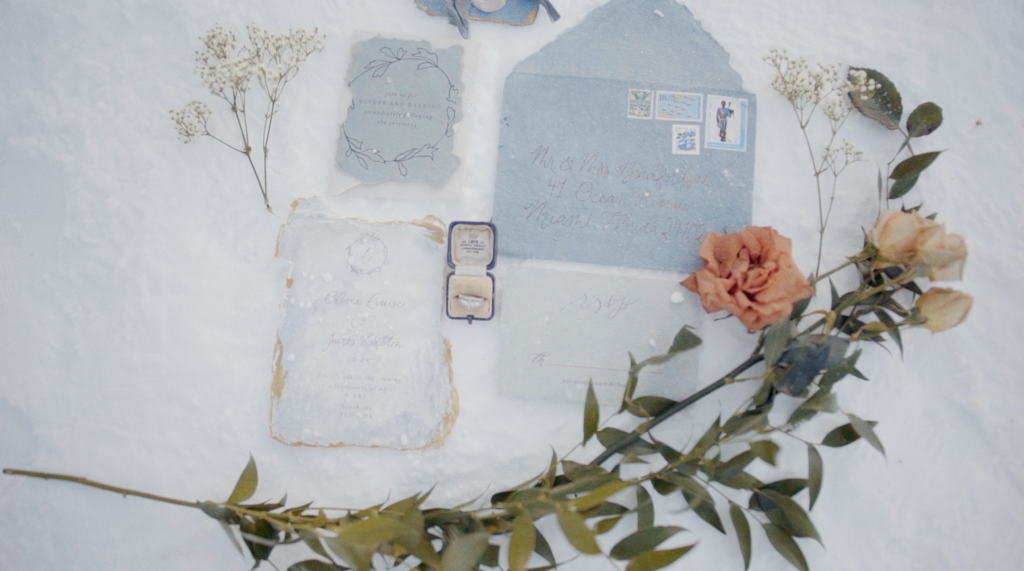 We are so excited to share the film from this shoot, and are blown away with everyone that came together to make this shoot a success.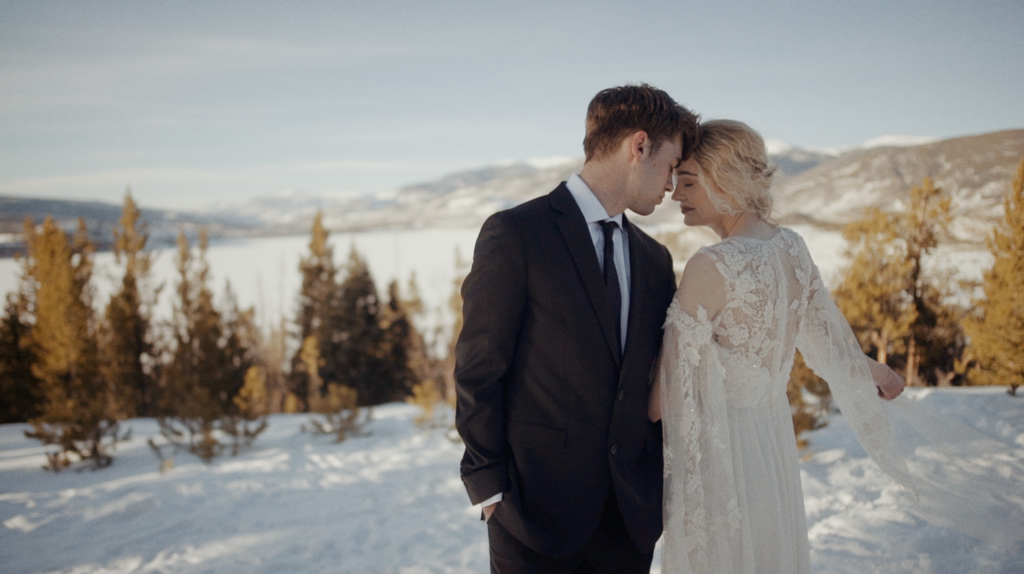 Planning + Design: Taylor Baxter Olivares
Bridal Gowns: Hannah Tikkanen
Floral: The Nostalgic Floral Co.
Decor: Sweetheart Rentals
Bridal Accessories: The Lucky Sixpence
Paper Goods: Line Avenue Calligraphy
Linens: AM Linen
Models: Sheridan + Trevor of The Dragonfly Agency
Click to see more blog posts
Click here to visit our website
Click here to follow us on Instagram
Click here to follow us on Facebook